Deck Staining in Richfield, Ohio
Resurrection Painting LLC is proud to offer deck staining and deck restoration in Richfield, Ohio.
Sun exposure, wind, and rain can damage the surface of your Richfield, Ohio deck in no time! UV rays and moisture can damage deck surfaces that have lost their protective seal. let the experts at Resurrection Painting LLC restore your deck's beauty and protect your investment. Resurrection Painting LLC's Richfield, Ohio deck staining specialists have years of experience in caring for decks.
---
Call for a FREE Quote
---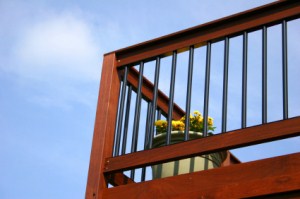 Richfield Deck Staining Preparation
No deck staining job in Richfield is too big or too small. Resurrection Painting LLC will prepare your deck in its entirety prior to staining or painting:
First, we will thoroughly pressure wash the deck, ensuring that all dirt, mildew, moss, and any damaged surface wood fibers have been carefully cleaned leaving behind a smooth, ready-for-stain surface.
Rough areas are sanded as needed to restore a smooth finish.
Then, Resurrection Painting LLC will then help you choose the right stain or paint to compliment your home and landscaping.
Finally, we carefully apply one or more coatings of high-grade paint or stain that can withstand the damaging heat and UV of the summer sun, the cold of winter, and regular exposure to moisture.
Rest assured your Richfield deck staining project is in good hands with the high-quality painters at Resurrection Painting LLC. We have been staining and painting decks in Richfield for over 5 years, and we look forward to enhancing yours! Call (234) 888-0212.
Resurrection Painting LLC Can Stain Any Deck in Richfield!
Resurrection Painting LLC's 5 years of experience allow us to be prepared to stain any Richfield deck. We offer affordable services to our clientele that are always completed in a timely manner. Resurrection Painting LLC can help your deck look great and be the envy of the neighborhood, so give us a call at (234) 888-0212 to get started on your Richfield deck staining project
---
Call for FREE Deck Staining Quote
---
WHAT CUSTOMERS ARE SAYING:
5★★★★★ - "My Cabinets turned out beautiful! Such great quality work, well worth the price.
These men are extremely skilled.
We had to wait about 2 months after the initial quote given to us by Jonah. Which was communicated to us fairly. But it was well worth the wait.
Tons of competition however, I will not hire anyone else after the Resurrection of our kitchen! Definitely saving this contact for future home projects !
Thank you Resurrection Painting LLC"

Holley Y., Cabinet Painting in Canton, OH

2023-07-13

5★★★★★ - "We can't say enough good things about our experience! We had cabinets, ceilings, and walls done and are getting a quote for the rest of the house. Calvin, Jessica, and Lexi were professional and kind and went above and beyond to make our home look its best. They exceeded our expectations. We would highly recommend them."

Anonymous in Uniontown, OH

2023-05-30

5★★★★★ - "We hired Resurrection Painting to paint our entire first floor (32,000 sq feet}. Could not have asked for a better crew. Finish the project in five days. Great work and at a reasonable price. Pick them for your upcoming painting needs."

Ronald Dorris in Medina, OH

2023-01-04

5★★★★★ - "We used Resurrection Painting for our kitchen cabinets and our entrance way. Would definitely recommend and use them again. The crew was friendly and went over the process every step of the way. They were very professional and made sure everything was cleaned up at the end of the job."

Elaine Lash in Ravenna, OH

2022-07-13

5★★★★★ - "Resurrection Painting transformed our outdated maple kitchen and maple trim. We are so happy with our "new kitchen" and the updated look of our house. Jonah and his crew were amazing and very professional. They made sure everything was completed to our satisfaction."

Mark Bindus in Streetsboro, OH

2022-04-25

5★★★★★ - "This is the second time I have used Resurrection Painting. The first time was to paint my kitchen cabinets, the second time was to paint all my trim. Great service, friendly and professional crew! Highly recommend!"

Anna Singleton in Aurora, OH

2021-10-29

5★★★★★ - "Love how great of a job they did on my homes exterior."

Britany G, Exterior Painting in Tallmadge, OH

2021-05-04

5★★★★★ - "We hired Resurrection Painting to paint our porch and deck ceilings. They are professional, hardworking, and give attention to detail. They were very pleasant to work with, and I would definitely hire them again."

Deana C, Painting in Tallmadge, OH

2021-05-04

5★★★★★ - "Great work at a great price, had them power wash my house looks like new now Thanks guys."

Bill F, Pressure Washing in Tallmadge, OH

2021-05-04

5★★★★★ - "Absolutely love the work these guys did for us painted our interior, drywall repairs and painted a vanity. Incredible work, awesome crew, and they are also very reliable. When they say they will be there at a certain time, they are there."

Kelly R, Interior Painting in Everett, OH

2021-03-30

5★★★★★ - "Jonah and his crew repainted our kitchen cabinets. From start to finish they were all very professional and a pleasure to have in our home while working. Their attention to every detail was evident and were very clean throughout the painting process. We are completely happy with the finished product and would recommend them for any painting needs."

Michael O., Kitchen Cabinet Painting in Country Fair, OH

2021-03-30

5★★★★★ - "Jonah and his team transformed our 1990 honey oak kitchen, dining room and 2 bathrooms into beautiful spaces that we LOVE! They were fantastic to work with, did a beautiful job, completed the project on time and cleaned up after themselves every single day. I will use them again to paint and they will be power washing for us this Spring as well."

Stephanie B, Interior Painting in Lewisville, OH

2021-03-30

5★★★★★ - "Resurrection paint was so so wonderful to work for. Literally the most friendly and professional paint company ive had the oppurtunity to work with. They did an amazing job bringing my home back to life. I will be using them for any and all of my painting in the future. 5 stars across the board."

Eric S, Interior Painting in Akron, OH

2021-03-30

5★★★★★ - "We had the pleasure to have Jonah Byard come into our home and paint 3 of our rooms. He did a phenomenal job. He was very thorough at his work. He was very polite and funny as well. We felt as if we knew him for years and we just had a friend over. I would highly reccomend Jonah to anyone looking to have some painting done. You definitely wont be disappointed. Thank you for everything Mr. Byard."

Julie, Interior Painting in Tallmadge, OH

2021-03-08

5★★★★★ - "Jonah and his men did an excellent job of painting our vinyl siding and trim. He was fast, did a very good job, and went above and beyond our expectations and what we had asked him to do. We highly recommend him to anyone and would unhesitatingly use him again ourselves for any further paint jobs."

Bruce Imbeau, House Painting in Tallmadge, OH

2021-02-08

5★★★★★ - "They did such an amazing job on my house! Was so excited to come home and see it looking like new again!"

Angela M, House Painting in Tallmadge, OH

2021-02-08

5★★★★★ - "Jonah painted all our rooms in our home we bought and they also did a AMAZING job. I would recommend to all my friends. They're great.."

Cindy D, Interior Painting in Tallmadge, OH

2021-02-08

5★★★★★ - "Very great experience!!! Love the work you guys did! Thanks so much!!"

Angela W., Exterior Painting in Akron, OH

2021-01-08

5★★★★★ - "Jonah was very professional and did awesome work. I would recommend him to anyone who needs painting and/or powerwash. I know I will call him again for future jobs.
Jonah didn't waste time, was safety conscious, and polite. Thank you."

June C., Painting in Akron, OH

2021-01-08

5★★★★★ - "Did an awesome job painting my house. Were very fast and professional and could not beat the price! Highly recommended"

Jay S., House Painting in Akron, OH

2021-01-08

5★★★★★ - "My wife and I couldn't be happier with the outcome of Joe's work! The price was great, the quality of work was top notch and he put our rooms back together when he was done! I can honestly say...I'll never paint again! After that experience, I'll gladly pay the money for his services whenever necessary!"

Rick J., Interior Painting in Akron, OH

2020-12-08

5★★★★★ - "We hired Resurrection Painting to paint our porch and deck ceilings. They are professional, hardworking, and give attention to detail. They were very pleasant to work with, and I would definitely hire them again."

Deana C., Exterior Painting in Akron, OH

2020-11-06

5★★★★★ - "Great work at a great price, had them power wash my house looks new now Thanks, guys."

Bill F., Pressure Washing in Akron, OH

2020-11-06

5★★★★★ - "They did a wonderful job! Everyone was very courteous, did the job in a timely manner, and cleaned up well. Highly recommended."

Anonymous

2020-06-09

5★★★★★ - "The team at resurrection painting was great. The owner was responsive from the start and met my aggressive timeline goal. The quality of work was great. My barn looks brand new!!!"

2020-05-20

5★★★★★ - "Jonah and his crew did an AMAZING job painting our new home. The previous owners paint job was a pretty big mess and these guys transformed the looks of our house! Jonah is extremely nice, pleasant,and easy to work with. His crew was just as nice as he is! They were very professional, always kept us updated about things, and completed the job so quick! If you are considering having this company paint any part of your home, do it! You won't be disappointed! We will definitely be hiring them for more projects in the future!"

Emily, Painting in Uniontown, OH

2020-04-14

5★★★★★ - "Resurrection paint was so so wonderful to work for. Literally the most friendly and professional paint company ive had the oppurtunity to work with. They did an amazing job bringing my home back to life. I will be using them for any and all of my painting in the future. 5 stars across the board."

Eric S, Painting in Akron, OH

2020-04-14

5★★★★★ - "Jonah and his team were friendly, professional, efficient and did a wonderful job painting our main level!"

Audra Newland in Cuyahoga Falls, OH

2019-12-23

5★★★★★ - "He's a good honest painter..... Those can be hard to find sometimes."

James F., Painting in Canton, OH

2019-11-08

5★★★★★ - "Jonah and his team did an amazing job. We hired them to repaint our cabinets (fixing the job the previous owners did), paint our stair rails, and our first floor walls flowing up the second floor landing. Our walls are super high on the second floor--so high that I was worried they wouldn't be able to reach them. Nope. They handled the job like the pros they are and the walls look absolutely gorgeous. These guys are meticulous in their work. I was so impressed that I'm having them come back to do another big job for us. If you hire this company, you won't regret it."

Alicia H., Cabinet Painting in Akron, OH

2019-11-08

5★★★★★ - "Seem to be one of the few companies left that cares about the customer. Pricing is fair and the work is fantastic"

Russ W., Painting in Akron, OH

2019-11-08

5★★★★★ - "I would recommend this crew to anyone. Quick, clean, and courteous. Really a pleasure doing bus"

Ben K., Painting in Akron, OH

2019-08-12

5★★★★★ - "Jonah and his crew did our entire house in 11 days. This included painting all of the oak trim, doors, a 20' wall of built-ins, windows and cabinets. There was SO MUCH OAK!! Plus the walls!! He was just a super professional person, he and his crew were a joy to work with. He also had a second shift come in at night so we could get it done within 2 weeks. I wish we had more work to give him, the experience was that good. My wife literally cried when he was saying good bye. He worked with us very closely and had great ideas of his own. Love this guy! I knew he was our guy the day we first interviewed him. There is a saying among painters, "Cheap painters aren't good and good painters aren't cheap" Jonah and his crew were worth every penny. Look no further, if you want to be over the moon happy with the caliber of the work - call Jonah now."

Steve U in Uniontown, OH

2019-07-02

5★★★★★ - "Jonah did a great job helping me rehab an old house. Recommend him highly"

John B., House Painting in Akron, OH

2019-05-28

5★★★★★ - "We couldn't be happier with the transformation Joe did to our home! I can't wait to get him to come back for a third time to transform our family room! Very professional, very friendly and an amazing experience all the way around."

Melanie K., House Painting in Akron, OH

2019-05-28

5★★★★★ - "Joe and his team did a great job on painting the outside cement block, front porch, garage, and light post at my home. Price was very reasonable with even better work. I was quoted a price and had all the work done a couple days later."

Katie W., Exterior Painting in Akron, OH

2019-05-28

5★★★★★ - "Besides Resurrection Painting & Powerwashing painting our bathroom (a project that we just kept putting off) and being so professional and doing such a wonderful job, we were so thankful for them (Jonah) being so helpful and eager to answer all our questions/concerns.
It is always great to work with a true professional. From start to finish, we were very impressed with the quality of work and attention to detail."

Jared D., Interior Painting in Akron, OH

2019-05-28

5★★★★★ - "Jonah completed a small exterior project for me in October 2018. We had rain on and off for a few days and he kept in touch to find a time that worked. He showed up on time and got the job done quickly and affordably."

Nick K., Exterior Painting in Akron, OH

2019-05-28
---
Call for FREE Deck Staining Quote
---